If you are experiencing shoulder pain in your everyday life while working, dressing, lifting, driving, sleeping or carrying things, you should know about our clinically proven physical therapy treatments.
Shoulder pain occurs every day in the life of an average person. This can limit them from doing household chores, heavy lifting, or sleeping properly.
Our well-trained Therapist, can help relief your shoulder pain, recover strength without having to undergo surgery or use pain medications.
We have a variety of modalities and therapeutic exercises to help restore your function.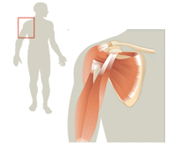 Visit our Medical Library for:
Causes of shoulder pain
Illustrations
Possible treatments
Additional web resources links.
Call us today and start feeling better tomorrow!
(713) 339-2273